Massage Therapy
Comprehensive Health Management

REGISTERED MASSAGE THERAPY:
* is covered by extended health care benefit plans
* is a great preventative and rehabilitative health care
A Registered Massage Therapist is a Primary Health Care Provider who is trained to assess, treat, and aid in rehabilitation of over 100 different possible conditions. We undergo 3000 hrs of education and training to understand all levels of the body and how to help you regain and maintain health and function. A primary health care provider is someone you can go to as the first person you see for qualified assessment and treatment. A doctors note is not required to receive registered massage therapy. We will always refer out if a condition or injury needs further medical treatment or imaging.
Services available:
relief of muscle, joint & nerve pain​​​

injury rehabilitation and prevention

postural and structural correction

pelvis re-balancing

​neck and scapular re-balancing

jaw re-balancing

stress, tension, and headache elimination

relaxation

depression and anxiety management

digestive and respiratory aid

sports massage

pre / post natal care

pre / post operative care

scar tissue mobility

MVA rehabilitation- whiplash, back injuries, joint impacts, soft issue damage

therapeutic exercise programs

yoga, breathing, meditation, and energy healing recommendations
Advanced Techniques used:
advanced myo fascial restructuring

gentle deep tissue release

trigger point release

acupressure

passive and active release

joint mobilization

zero balancing

pelvic stabilization

intra oral massage

upper and lower body postural correction and re-alignment

postural and therapeutic exercise instruction

proprioceptive re-training

yoga, breathing, meditation, relaxation, and energy rejuvenation recommendations
Conditions Treated:
Shoulder and Neck tension

Whiplash

Thoracic Outlet Syndrome

Rotator Cuff injury

Headache, Stress, Tension

TMJ (jaw)

Carpal Tunnel

Tennis and Golfers elbow

Rounded Shoulders

DDD (disc degeneration)

Pelvis misalignment

SI joints pain(sacroilliac joints)

Sciatica

Patellar tracking disorder

Arthritis

Poor posture

Repetitive motion pain

Tendinitis

Sports injuries
... and many more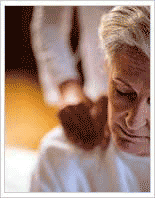 Massage therapy is one of the oldest methods of healing, as the practice of therapeutic massage can be traced back nearly 4,000 years. Statistics from both Health Canada 1 and the American Massage Therapy Association 2 show that millions of North Americans use it today.
Massage therapy refers to a comprehensive health management strategy focusing on the application of various techniques to positively affect the soft tissues and joints of the body. Massage techniques most commonly include myo fascial release, trigger point release, pressure and compression, kneading, frictioning, joint mobilizing, active and passive muscle stretching.. to improve the health and condition of the muscles, tendons, skin, and fascia or connective tissue of the body.
Today massage is thought of as a holistic therapy that complements medical treatment. The "Physician's Guide to Therapeutic Massage" shows that massage can decrease pain, improve range of motion, improve mood, aid in the circulation of blood and lymph flow, reduce muscle and joint soreness, and improve sleep.
Massage therapy is a preventative health care, working on decreasing stress and tension and promoting relaxation and peace of mind. You do not need to have an injury to receive massage. It can be part of a regular self care routine.
1 Health Canada (2003)Health Policy Research Bulletin. Retrieved May 10, 2005, from http://www.hc-sc.gc.ca/iacb-dgiac/arad-draa/english/rmdd/bulletin/mainstream.html#page6
2 American Massage Therapy Association. (2001). Massage Therapy Consumer Fact Sheet